"What on earth would become of me if I should ever grow brave?"
What a heartbreakingly beautiful true story.
I was vaguely aware that C.S.Lewis had been married late in life to an American woman in ill health. That was about all I remembered from the film, Shadowlands. Then I happened upon this book in a library e-reader app last week, and could hardly put it down until I came to the inevitable end.
From the first page, it compels.
Who knew that the woman who would one day become Mrs. Lewis started out as a highly intelligent, atheist Jewish child in New York City?
That she lived and wrote as a communist, and graduated with a masters degree from Columbia University?
That she endured years of infidelity and abuse with an alcoholic husband before fleeing with her two little boys to save her health and hope…?
Not I…
Early in this historical novel (which reads more like an autobiography) Joy had a totally unexpected experience when she fell to her knees in desperation and fear on the floor of her baby's bedroom one night. She was surprised to find herself uttering a prayer, which was answered by an immediately overwhelming sense of comfort and peace. She could never look at her life the same way again.
"Much of what I'd done — mistakes, poems, manipulations, success and books and sex — had been done merely to get love. To get it. To answer my question: do you love me? . . . From that moment on, the love affair I would develop would be with my soul. [God] was already part of me; that much was clear. And now this would be where I would go for love — to the God in me. No more begging or pursuing or needing." ('Joy')
She was an award winning writer in her own right, and knew other writers; one of her friends had spent time in England with the well-known author, C.S. Lewis (known to his friends as Jack.) She wrote to him, searching to understand her spiritual experience and gain clarity as a Christian convert.
They did have some things in common, most importantly their incredible intellect, and their surprise at being forced by their own undeniable experiences to forsake their atheism for Christianity.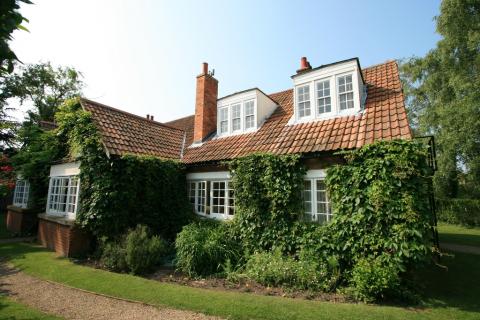 ~The Kilns, Lewis's home
(photograph: awesomestories.com)
Joy met her match in Lewis, an Oxford professor 17 years her senior, who worked in a world of academics (of which she was undoubtedly one) and men (of which she was undoubtedly not one.) The college where he worked wasn't even open to women students!
Little did he know then that this was 'the beginning of the end' of his life as a confirmed bachelor. He was originally from northern Ireland, and when Joy stepped into his life he lived contentedly in the English countryside with his older brother, Warnie (who was a dear, and loved her as a sister.) But alas, Jack's friends didn't approve of her, especially not for him. It really is amazing that they ever got together.
"It is not hopeless," he said with surety. "It is uncertain, and this is the cross God always gives us in life, uncertainty. But it is not hopeless." ('Jack')
Love conquers all.
Patti Callahan ( author of Becoming Mrs. Lewis) has researched minutely and read extensively; so much so that she's able to write convincingly in the first person about Joy's courageous suffering through her 'once upon a time' and brave living which propelled her eventually into her own 'happily ever after.'
Becoming Mrs. Lewis left me craving more about this brilliantly gifted writer who waded through chronic illness and faced down relentless prejudice to produce an impressive body of written work and captivate the heart and mind of one of the most famous writers and speakers of his time (and the author of The Chronicles of Narnia!)
It's safe to say she was the love of his life, as he said this of her:
"She was my daughter and my mother, my pupil and my teacher, my subject and my sovereign; and always, holding all these in solution, my trusty comrade, friend, shipmate, fellow-soldier. My mistress; but at the same time all that any man friend (and I have good ones) has ever been to me. Perhaps more." -Person Jr., James E (16 August 2009). "Books: 'Out of My Bone: The Letters of Joy Davidman'". The Washington Times. Retrieved 8 December 2011.
I know Joy wasn't alone in her experience of feeling at first that she had to do or be something, good enough somehow, to 'earn' the right to be loved by 'proving worthy of it'…
I've experienced powerful change in my own life, by realizing that I, in my flaws, am and always have been perfectly loved by God.
How about you?
Also, can you recommend to me any other good books or movies about Joy and Jack?
Thank you for reading with me,
Leah 🙂